Quinn E. Kuranz, Attorney at Law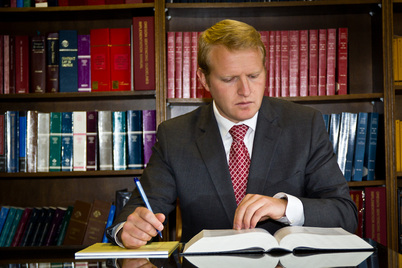 Quinn received his
Juris Doctorate
from the Columbus School of Law in Washington, D.C. He focused his legal education on general studies, appeals, employment law, and legal research and writing. Quinn was a member of the Law Review from 2009-2010. Quinn also gained valuable, practical knowledge in the school's legal clinic, Columbus Community Legal Services (CCLS), and courses in law firm management. He received a merit award from the
Clinical Legal Education Association
for "Outstanding Student Achievement" as a student-attorney with CCLS. Quinn's professors said:
--"[h]is ability to listen to clients, coupled with his outstanding legal research enabled him to come up with novel ideas and approaches for resolving problems."
He brings his talents and experience to his private practice.
Quinn was born and raised by a carpenter and a pawn broker in northern Idaho. Raised together with his younger brother, they learned the values of hard work, honesty, entrepreneurship, and dedication. Quinn's education, experiences and interests include:
Licensed to practice in U.S. District Court for the District of Oregon
Licensed to practice law in Oregon State Courts
J.D. (law degree) from the Columbus School of Law at the Catholic University of America
B.A. in History from Lewis and Clark College
A.S. with Highest Honors from Portland Community College
"Outstanding Student Achievement Award" from the Clinical Legal Education Association
Represented bilingual clients with Columbus Community Legal Services
Investigated employment discrimination claims as a bilingual Senior Investigator at the Oregon Bureau of Labor and Industries
Screened claimants as a bilingual Intake Officer at the Oregon Bureau of Labor and Industries
Speaks and reads Spanish with a high level of proficiency
Speaks Japanese with a basic level of proficiency
Taught English in Japan through the Japanese Exchange and Teaching Programme (J.E.T.)
Taught introductory Spanish to middle-school aged children
Lived abroad in England, Spain, and Japan
Quinn has lived in Portland on and off over the last ten years. Outside of work, Quinn enjoys playing soccer and golf, spending time with his family and friends, home brewing, and spending time outdoors.
---
---
Quinn E. Kuranz and The Office of Q.E. Kuranz, Attorney at Law, LLC is licensed to practice law in the state of OREGON. The principal office is located at 65 SW Yamhill St., Suite 300, Portland, OR 97204.
NOTICE: The Information provided in this web site is offered for informational purposes only. It is not offered as legal advice and does not constitute legal advice. Visiting this web site does not create an attorney-client relationship. Quinn E. Kuranz and the Office of Q.E. Kuranz, Attorney at Law, LLC, do not seek to represent you based upon your visit to or review of this web site. This web site may be considered advertising under the rules of the State of Oregon. You should not make legal hiring decisions based upon brochures, advertising, or other promotional materials.